Kentucky's Country Music Highway
Kentucky

By Pat Mestern
Cruising Kentucky's Country Music Highway does have its moments, especially when you are playing appropriate music. Tune into any Eastern Kentucky radio station for some good old-fashioned, foot stompin' country music. CMH #23, one hundred and fifty miles of pure Appalachian Americana, runs from Ohio to the Virginia State Line. It is here where bluegrass meets mountains, pickin' means banjo and guitar, and coal reigned supreme for year. Today, one of the biggest commodities Appalachia offers is talent.
County Music Highway #23 comes by its name easily. The road represents more country singers than anywhere else in the U.S.A. Greenup Co., has Billy Ray Cyrus. Naomi and Wynonna Judd come from Boyd County. Ricky Skaggs called Lawrence County home. Loretta Lynn and Crystal Gayle along with Hylo Brown were born in Johnson County. Dwight Yoakin is an icon in Floyd Co. while Patty Loveless has a hold on Pike County. Gary Stewart claims Letcher County at the Virginia border. Tom T. Hall and Keith Whitley come from just a holler away, over-mountain.
The ambiguous stripping and malling along the highway is part of the scene. There are also state parks, mountains, canyons, raging rivers, impressive rock cuts and Appalachian towns that haven't changed much in one hundred years. There is great hiking, white watering, fishing and rock gorges with impressive geological formations.
Get on CMH #23 in Ashland. Before you cruise down-country, visit Highland Museum & Discovery Center for complete immersion in country music memorabilia. Drop in at Paramount Arts Center, a restored c1930 Art Deco theater, to see where the Billy Rae Cyrus hit "Achy, Breaky Heart" was filmed. On your way again, #23 follows the bank of the Ohio River for a few miles, than turns south toward Louisa and Paintsville.
Paintsville is worth a turn off the highway to see Coal Baron Mayo's United Church and Mansion. Paintsville has the only golf course in America that requires crossing several major roads, and negotiating a narrow swing bridge to complete the course.
Paintsville Lake, formed when a dam was constructed across a deep valley is a beauty with steep rock cliffs and wooded shoreline. Mountain HomePlace, a recreated working farm & crossroads community, demonstrates how Appalachian folk survived during the mid-19th Century.
Just south of Paintsville, an interesting drive down narrow country roads leads to Butcher Holler, up which you will find the home-place of Loretta Lynn and Crystal Gayle. Turn left at the large boulder indicating Butcher Holler Road, then watch for signs telling you to "honk" to tour the house. Herman, Loretta's brother, will escort you to the small frame building. If you watched the movie Coal Miner's Daughter, the place will look familiar. Just before Butcher Holler Rock there is an opening to the coal mine where Lynn's father worked twelve hours a day for a number of years. This man-made hole in the rock goes under-mountain for three miles.
There are always festivals taking place along C MH #23. Kentuckians use any excuse for a celebration, among them music, tobacco, apples, squirrels, highland folk art, hillbillys and blossoms, burgoo and bourbon. Paintsville holds the Kentucky Apple Festival in October each year.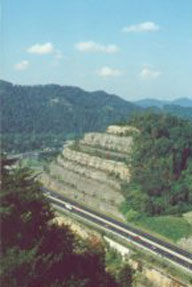 Mountain Art Center in Prestonsburg showcases Kentucky talent. Drop in at the local Dairy Cheer, home of the Smashburger, for a good old-fashioned Canadian-style burger. Say hello to Larry Joe while you are there.
Pikeville, the stomping grounds of the feudin' Hatfields and McCoys, has been recognized as one of the most beautiful small towns in America. Dils Cemetery in Pikeville is an historic burial grounds where more than five hundred people are interred, including some of the McCoys. Eat with the locals at the Happy Days Diner.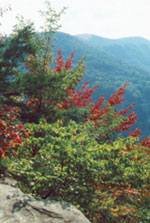 Pikeville Cut-Through, the greatest engineering feat outside the Panama Canal, is the most spectacular man-made object on #23. The Cut-Through, begun in 1973 and completed in 1987, cost eight million dollars. The three-quarter mile channel was cut through Peach Orchard Mountain to alleviate serious flooding problems. Railroad tracks and the Levisa River were diverted. Highways #23, #460, #119 and KY 80 were channeled into four lanes. The cut is 1,300 feet wide, 3,700 feet long and 523 feet deep. It has been called the eighth man-made wonder of the world and is best viewed from a mountainside "bird cage", after negotiating a narrow paved road that winds its way toward the sky.
The Russell Fork of Big Sandy River, Gateway to the Grand Canyon of the South, begins at Pikeville. It is one of the best white-water rivers in the USA and drops 350 feet through Breaks Interstate Park on the Kentucky/Virginia border. Just south of Pikeville you can either finish the drive on Country Music Highway #23 to Shelby Gap, Virginia with its unusual coloured rocks and formations; or you can take #80 to Breaks Interstate Park for spectacular views of the largest canyon east of the Mississippi. The Towers, is an imposing pyramid of rock over one-half-mile long and one-third mile wide. The canyon, estimated to be 250 million years old, is five miles long and 1600 feet deep.
If you have the time, do both. Whatever you do, remember to play that country music.
IF YOU GO:
Ashland Area Convention & Visitors Bureau

P.O. Box 987
1509 Winchester Ave.
Ashland, Kentucky 41105-0987
#1-800-377-6249




Paintsville Tourism and Convention Commission




Prestonsburg Tourism Commission

113 S. Central Avenue
Prestonsburg, Kentucky 41653
#1-800-844-4704




Pikeville-Pike County Tourism Commission