The World of Dale Hollow
Pickett County, Tennessee

By Pat Mestern
January 11, 2004
Pickett County, Tennessee is known for friendly folk, quaint villages, rolling hills, misty glens, waterfalls, mountain streams and the crystal clear waters of Dale Hollow Lake. The County is well situated with its northern border snuggled against the Kentucky mid-State line and its east, south and west boundaries roughly delineated by Highways #127, # 52 and #53, making it a prime tourist destination.
Man-made Dale Hollow Lake with its 620 miles of protected shoreline that wends its way through five counties and two states is definitely the area's centrepiece attraction. Under the direction of the U.S. Corp of Engineers, Dale Hollow's amenities include 450 camp sites in fourteen major campgrounds - available April 1 through November l and fourteen commercial marinas, many with a variety of accommodations and services. Folks can fish, hunt, camp, picnic, houseboat, canoe and hike. The area is a bird watcher's paradise. Fishing is excellent with small mouthed bass the prevalent species. Forest cover is deciduous and particularly spectacular when ablaze with autumn colour. When the lake was formed during the 1940's, rising water submerged a number of hollows and small valley communities. As many of the buildings weren't moved, they now lie under the waters of the lake, making it an interesting diving destination. Be cautioned that because of the deep, cold and dangerous environment, only very experienced divers make an effort to see these underwater monuments to past history.
Brydstown, the largest community in Pickett County, boasts 904 folks in residence. Its traditional main street is dominated by a c1920's Court House building. Take time to browse Crouch's hardware store where county folks still enjoy a good debate - "Does a black-mouthed hound really make a better huntin' dog?" - "How many dawgs should a fella admit to ownin'?"
Drop into the Dixie Café for a hearty meal. Try one or two of the more than fifteen different variations of southern biscuits - biscuits and gravy with tenderloin, biscuits and gravy with sausage, bacon biscuit, country ham biscuit. This icon of southern country cooking can be downright addictive. As one elder gentleman said eyeing my plate - "Thar's biscuits and thar's BISCUITS. Them's BISCUITS". If you like southern biscuits, there's few that are better than those served in Pickett County. Dixie Café's are habit forming as are those at the Farmhouse Restaurant on Highway #111.
Any drive round the countryside has to include a tour of the eastern boundary - Highway #127, which meanders through the Wolf River Valley, also known as Valley of the Three Forks, past Forbus and Moodyvile Cash Stores, on to Pall Mall and Sargent York's birthplace. Be sure to stop at Valley of the Three Forks Antique and Gift Shop. Right next door is the Three Forks Restaurant and B.B.Q. where briskett sandwiches and home made apple pie are a specialty.
During the 18th century, Pickett County and the Valley were the hunting grounds of the Long Hunters. One of them, Coon Rod Pile, set down roots in the late 1700's. Most of the settlers that came over the Wolf River Trace were hardy folks of Scots and Irish descent. Parts of old "Trace"can be seen at Wolf River Valley Growers, and on the Buck's Gardens & Grotto property. Both attractions are open to the public but it's best to phone ahead just to make sure someone is there who can show you traces of the old rutted wagon trail. Buck's Gardens & Grotto also offers unique lodging in a beautifully restored farm house and log cabin.
Highway #52, known as the most scenic highway in Tennessee, runs east/west and roughly marks the area's southern boundary. Jamestown, at the junction of #52 and #127, is a real eye-treat with its unique stone buildings. Rarely in Tennessee, are so many heritage stone structures seen in such a small village. Highway #52 presents surprises around every bend - old homesteads, cave-like grottos in roadside limestone cliffs, great vistas over rolling hills, ancient mountains, beautiful sunsets, small fields of tobacco and curing sheds. Be sure to stop in Livingston to see its restored central Court House Square decorated with pretty flower baskets & flags and surrounded by interesting shops.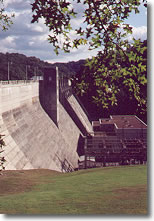 Highway #53, the area's west boundary, passes Celina and gives access to Dale Hollow Dam where the Visitor Center is located below the high dam. If you are interested in fishing, camping and facts about Dale Hollow Lake, this is the place to get it.
Pickett County residents love to gather for a good time. Festivals include - Jammin' Yard Sale and Antique Civil War Road Show in May - Annual Gospel Song in June - 4th of July Celebrations - Worlds Longest Garage Sale in August - Sierra Hull Bluegrass Festival in September - Roller Coaster Fair, a 100 mile long garage sale in October. Cordell Hull's Birthplace and Museum State Park, is home to several annual festivals and monthly special events, Ol' Bunkum Cave and the Stateman's restored birthplace.
Pickett County played an interesting role in the Civil War. Although no major battles were fought, feuding and guerrilla warfare developed between two opposing factions, often splitting families along north/south lines. Founding folks had always been an independent lot, taking things into their own hands and solving "problems" in their own way. It wasn't surprising then that during the War, a number of very colourful characters rose to fame. Oh, the stories that are told at "The Borderland" exhibit in the Town Hall! One of the most exciting events in Pickett County is preparation of a permanent home for "The Borderlands" at Amonett House which is located on Highway #127 and believed to be the oldest home in Pickett County.
Like to play golf? Dale Hollow Lake State Park, located on the Kentucky side of the lake, has an 18 hole course, one of the prettiest in the south-eastern USA, which uses natural features such as spectacular views, caves and rock ledges to advantage.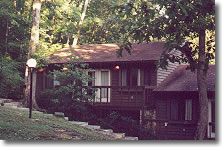 The County boasts more than one thousand rooms offered at a variety of accommodation choices - motels, full service resorts, cabins, bed and breakfast establishments. Several resorts come highly recommended. Star Point Resort has a variety of accommodations which include cabins, chalets and condos. This family-oriented quiet resort is situated on a secluded bay and has an excellent dining room, gift shop, tennis court, boat rentals and boat launch area. The dining room serves well-prepared country cooking and a bonus, excellent bird watching from its large windows while you're eating. Folks are so friendly that you're not a stranger for long. Be sure to stand on the dock on a clear night to marvel at the stars and moon mirrored in bay waters. Want to enjoy a unique bed and breakfast? "Anchors Aweigh" is a great houseboat bed and breakfast experience that offers gourmet breakfasts, luxurious accommodation and cruises on the lake. Lounge in the Jacuzzi on the top deck. Enjoy refreshments around a fireplace on the main level. Have breakfast on deck while watching the flora and fauna. Because of the popularity of this unique accommodation, reservations are a must. "Anchors Aweigh" uses the facilities of Sunset Marina & Resort, the largest facility on the lake with cottages, boat and houseboat rentals, a restaurant, full service marina and store. The resort is aptly named because of the gorgeous sunsets - and sunrises - seen from its location on the lake.
The most unique vacation experience has to be houseboating on Dale Hollow Lake. A number of marinas rent houseboats, including all the charts and accessories that are necessary for its operation. These include Sunset Marina & Resort, as mentioned, and Eagle Cove Resort which also has chalets for rent. The advantage of renting a houseboat is that you have the pleasure of cruising the lake and can tie up each evening in a different cove or bay. If you are a little hesitant about operating a houseboat, and some people are, marina staff will take the boat out for you, anchor it in a pretty bay and ferry your party to it. As some houseboats sleep more than six people, it's popular for a group of good friends or families to rent one. As one wag said " Well, you're friends when you get on the boat . . ."
It's recommended that you write for a comprehensive information package before you leave home. Make accommodation reservations well in advance of any trip. Consider visiting during the spring and late autumn months when facilities are less busy. Whenever you visit, you'll leave just a wee bit of your heart in Pickett County, Tennessee.
IF YOU GO:
For further information on this destination

Please see

www.mestern.net

under the heading "Tennessee", under the link "Cumberland Highlands"




Star Point Resort




Buck's Gardens & Grotto

Jim and Sheryl Buck
99 Buck Lane
Pall Mall, TN 38577
#1-913-879-5572




Byrdstown Pickett County Chamber of Commerce




For information on The Borderlands




Wolf River Valley Growers




Anchors Aweigh Inc.




Sunset Marina & Resort