South & West of Nashville
Middle Tennessee

By Pat Mestern
Middle Tennessee, south and west of Nashville is an enjoyable vacation destination. Before you leave home, ask area Convention &Visitor Bureaus to send packages on information, including walking and driving tours. There's so much to see, you should plan ahead to make best use of your time. State Highway #31, south of Nashville, roughly parallels the Natchez Trace Parkway, but runs east of the scenic route. Because we were approaching Giles County from Fayetteville, we traveled the route from south to north; from Pulaski to Franklin, just below Nashville. Architecturally significant plantation mansions along the route form part of Tennessee's Antebellum Trail.
Driving through Giles, Maury and Williamson Counties, it quickly becomes apparent from buildings, monuments and battlefields why the area is so focused on Civil War history. Only the state of Virginia had more battles fought on its territory during the War.
Pulaski, with a population of approximately 9,000 is known for beautiful gardens, tree-lined streets and friendly people. Giles County Court House, c1909, dominates the community's historic Square. The building, of French Renaissance design, is impressive with its vaulted skylight and solid brick walls. A tour reveals a rotunda that is three floors high; and one of the most unusual Circuit Court Chambers in the state. In the third floor, gold-leafed court room, lit by stained glass windows, the jury sits in front of the judge, facing the accused. Be sure to look for the "faces of women" that decorate third floor supporting columns.
Outside the building, members of the "Whittle & Spit Club" sit on the steps, sharing witticisms and local humour, along with their whittling skills. Vibrant Court House Square is home to many diverse retail businesses including the Soda Fountain in Reeves Drug Store that still dispenses five cent cokes, Abernathy's Hardware Store which takes several hours to explore properly, and Diversions, a gift shop that is chock-a-block full of unusual items. The streetscape is unique for its verandah-type roofs over sidewalks in front of some stores. It's a great old-fashioned way to protect shoppers from sun and rain.
Miss Butler's Bed & Breakfast on W. Jefferson Street is an ideal place to spend a few days while exploring the area. The c1888 house offers all the amenities of home. Room names honour Giles County historical figures.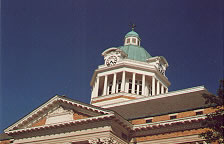 Pulaski and surrounding area has a number of sites that pertain to the life, and death, of Sam Davis, Confederate War Hero, including a monument erected to the young man in front of the Court House. Davis is remembered most for his statement, after being captured - "If I had a thousand lives, I would give them all here, before I would betray a friend or the confidence of my informer". On November 27, 1863 Davis went to his death riding in a wagon, seated on his own coffin.
Standing in the American Home Entertainment Museum in Prospect, a half-hour south of Pulaski, it became coldly clear that Tennessee has a few
peculiarities most people can't see - or feel. A fine example of a c1890's pump organ, with its own very ethereal attachment, sits just inside the museum's entrance. Never before have I been so "up close and personal" with a ghostly apparition. And the museum doesn't advertise it has a ghost in residence! I'm not kidding, folks. The apparition appeared to be male, dressed in a quaint looking suit, possibly in his mid-thirties. Chilled to the bone, I moved quickly to another aisle so as not to disturb the fellow. The others in our party didn't feel, or see, a thing.
Apparition aside, the American Home Entertainment Museum has an excellent collection of reed organs, wind-up phonographs, player pianos, radios, tape recorders, stereos and televisions, displayed chronologically - 1890's to the 21st century. It's a great place for nostalgia buffs and well worth a visit.
Next to the Entertainment Museum, at the Prospect Grist Mill, there are displays of separators, hand mills, presses and stoves along with an excellent selection of candies, jams, jellies, syrups including honey and sorghum, flours and milled grains that you can purchase.
Step next door to enjoy a shake or sundae at Prospect Ice Cream & Pizza Parlour. A musical marvel called "The Beast" entertains while you eat.
Merry Meade Sanctuary is a not-for-profit organization that rescues abused and neglected animals, in particular Clydesdale and Shire horses. You're welcome to visit Merry Meade Meadows, their headquarters near Prospect, to pat and feed the animals, and to find out more about the Sanctuary's rescue efforts.
Milky Way Farms has a connection to the chocolate bar of the same name. The farm's Tudor mansion was built in 1932 by the founder of the Mars Bar Chocolate Company, Frank C. Mars. Milky Way Farms mansion has been restored and is now a prestigious Bed,Breakfast and Corporate Retreat. The property is noted for magnificent, mature magnolias; hundreds of acres for hiking, a private lake for fishing, a putting green and unique barns that are in the process of being restored. House guests enjoy a wholesome breakfast seated around a specially-built 12 foot by 28 foot table in a dining room that is spectacular for its stone-work and chestnut wood ceiling beams. Architecture afficionados should put this house on their list of must-sees. House tours are conducted by appointment.
Lynnville, east of #31 and a little north of Milky Way Farms, came into being as a railroad town. Today, the village of approximately 400 residents, has its 59 buildings listed on the National Register of Historic Places. Visitors enjoy Soda Pop Junction, Milky Way Museum, The Railway Museum, Trolley Car Emporium, antique and specialty shops.
Continuing north, the city of Columbia has a number of historically significant buildings, in various architectural styles, that are open to the general public. The Polk Home was built in 1816 by the parents of James K. Polk, 11th President of the United States. The ancestral home is furnished with period pieces, political memorabilia, White House china and some of President Polk's personal possessions. The Visitor Center, next door in the Sister's House, has a good video presentation that covers Polk's career and accomplishments. The property also includes a detached kitchen and formal gardens.
The Athenaeum, built as a Rectory c1835 through 1837, is basically Gothic and Moorish in design with at least a dozen other architectural styles incorporated into the structure.
Red brick, white-columned Rattle & Snap Plantation mansion house, built c1845 through 1847, was named after the card game being played during which the land was "bet". The impressive mansion commands a great view of surrounding countryside, situated as it is on the crest of a hill. It's hard to believe that this beautifully restored home was once used as a barn and chicken coop. Lunch, by reservation, is served on the wide, airy verandah. During inclement weather, meals are served inside, in one of two restored dining rooms. Conducted house tours are given at specific times during the day.
Columbia is known as the "Mule Capital of the World" and is famous for its Annual "Mule Day", held annually on the first weekend in April. "Mule du Gras" Parade is held in May. A little known fact for people who don't know the animal, is that mules from the Columbia area were used extensively during the Second World War in Italy and Burma as they were from good stock and very sure-footed. There are both work mules and show animals, although the numbers of mules are declining.
The mule trail leads north on #31 to Rippavilla Plantation at Spring Hill. Major Nathaniel Francis Cheairs built his home, in the Greek Revival architectural style, between 1851 and 1855. Rippavilla is open for tours. Rooms have been furnished with appropriate antiques. The Armies of Tennessee Civil War Museum is located in four rooms on the second floor.
Maury County Mule Museum, located on plantation property, is the beginning of an ambitious plan for a c1805 through 1830 living history museum. The site now has an Overseer's house and a slave cabin, both unrestored. There is also a spring-fed reservoir that supplied the Plantation house, a wall-enclosed family cemetery and slave burial ground that is dominated by an old popular tree where interments were made in an ever-expanding circle around the trunk.
Vestiges of McCutcheon Trace which passed through the property, can still be seen. At a secluded point where the Trace crosses a creek, a reproduction c1805 log tavern with outbuildings, has been constructed. History buffs will be fascinated by this unique, well-done interpretation of a wilderness tavern, complete with log chimneys and bark roof. When we visited, a small green cedar tree was tacked to the building's side, in the Celtic custom, known as "Breesk". The tree represented the "giving back" of something; the builders having taken materials from the earth to build the structure.
Popular and well-attended festivals held at Rippavilla in April and October, include "Blazing Traces" and "Muster Days". Wildlife is abundant on the property. Watch for turkey, deer, a bobcat family and coyotes.
The city of Franklin, just south of Nashville, saw a lot of action during the Civil War. Carter House, around which a battle raged in 1864, is open to the pubic and has excellent interpretive staff on hand.
There's a terrible sadness that surrounds the Antebellum Mansion at Carnton Plantation. After the battle that raged in Franklin on November 30, 1864 the house was used as a Confederate Civil War Field Hospital. The most poignant and humbling aspect of the home are the blood stains on wood floors. How tragic the circumstances. Amputations took place next to open windows so mangled limbs could be thrown away. The blood came from these amputations. In one instance, the outline of a doctor's shoes can be seen, as he stood in blood next to an operating table.
For all the sadness, Carnton is striking for the vibrant authentic colours, used during restoration, for wallpaper, mural and woodwork. Carnton is graced with wide porches where rocking chairs invite visitors to sit awhile. A unique two- storey slave quarters stands a short distance away from the main house. Two acre McGavock Confederate Cemetery lies next the private family plot, and is within walking distance of the mansion.
Last stop before hitting Nashville's hustle and bustle is Franklin's Downtown Historic District. The community's self-guided walking tour lists thirty-nine historic buildings in a fifteen block area. Shop The Factory, a former stove factory that now features thirty unique businesses. As Franklin is so close the I-65, it's a great place to use as home-base if you are visiting city of Nashville. It's an easy drive in - and out - when not caught in commuter traffic.
Alternately, you can bypass Nashville and explore parts north in middle Tennessee.
IF YOU GO:
Middle Tennessee Convention and Visitors Bureau

8 Public Square
Columbia, TN 38042
#1-931-381-7176




Mule Day




City of Lynnville Department of Tourism

105 Mill Street
P.O. Box 158
Lynnville, TN, 38472
#1-931-527-0564




Merry Meade Meadows




Giles County Chamber of Commerce & Tourism




American Home Entertainment Co

152 Case Road
P.O. Box 130
Prospect, TN 38477
#1-931-424-3734




Rattle & Snap Plantation




Milky Way Farms

1864 Milky Way Rd
Pulaski, TN, 38478
#1-931-363-9769




Rippavilla Plantation & Cheairs Homestead

5700 Main Street
Spring Hill, TN 37174
#1-931-486-9037




Carnton Plantation

1345 Carnton Lane
Franklin, TN 37064
#1-615-794-0903




Williamson County Tourism