Eastern Tennesee
Tennesee

By Pat Mestern
While sharing the steps of a back-country store, a fellow who had noticed our license plates, asked what we were doing in Tennessee. After explaining that we were taking a leisurely tour around the state, he said that he hoped we left lots of time for "sitting and talking and gawking". We had. That's the best way to enjoy Tennessee. Folks are kind, friendly and most helpful, and once they've struck up a conversation, you're a friend for life. Eastern and mid-Tennessee are great places for "shunpike" vacations. Scenic byways, small towns, friendly people, gorgeous architecture and well presented history can keep you busy "walking and gawking" for weeks. Be forewarned though, it's easy to leave a little of your heart in Tennessee.
Not particularly fond of Interstate highways, we spend a bit of time before leaving home, looking over road maps and visitor information. To fully explore eastern Tennessee, we chose a route that included Highways11E and #321, with detours along interesting by-ways when the mood struck or signage indicated a site or area that needed further exploration.
Your introduction to the eastern part of the state should begin just south of the Virginia border at Rocky Mount Museum in Piney Flats. The main focus of this living history establishment is the furnished c1792 William Cobb log home. The complex, that emphasizes life in early Tennessee, also has excellent on-site interpreters, a blacksmith shop, woodworking shop, weaving cabin and the Massengill Overmountain Museum.
A few miles drive, down interesting back-country roads, the thriving community of c1779 Jonesborough, Tennessee's oldest town, beckons with one of the most intact, prettiest streetscapes in the state. Nestled among the rolling Appalachian hills, Jonesborough is surrounded by some of the nicest landscape in northeast Tennessee. In 1969 the town became the first to be placed on Tennessee's Register of Historic Places and it's easy to see why. The community is visually striking with late 18th and early 19th century architecture. It is also obvious that residents appreciate its natural and built heritage.
A walking tour takes you past the c1797 Chester Inn, a fixture on Main Street and one of the many restored buildings in the community. A block away, the c1798 Eureka Hotel provides great accommodation, just as it did at the turn of the 20th century. Today, the hotel's rooms are beautifully decorated with antiques and homey touches. Guests are encouraged to eat breakfast on wide, fan-cooled back porches or at tables placed in well-tended gardens The oldest standing structure in Jonesborough is the c1793 Rees-Hawley House now an interesting bed and breakfast.
Check out the two-storey Christopter Taylor log house at 124 W. Main Street, and the gardens behind, both sites for many special events. For a more comprehensive look at local history, the Jonesborough-Washington County History Museum is located at the Visitor Center on Boone Street.
Jonesborough does everything "up-well". Bustling Main Street has a great selection of restaurants and specialty shops that sell decorative arts and one-of-a-kind items. May through September, there's Music on the Square every Friday evening. Lunch at Bistro 105 is a treat. Try their tangy mushroom soup and quiche of the day that is served with fresh fruit. Pop into the Cranberry Thistle for a cup of coffee and dessert. A performance at Repertory Theatre, right next door to the Eureka Hotel, is a great way to end a day of main-streeting.
Jonesborough is all about special events, their largest being the National Storytelling Festival held annually in early October. The community is home to the Storytelling Foundation International, an organization that is dedicated to the power and preservation of the storytelling tradition. Their headquarters is on Main Street, in a restored building that is the epitome of what can be done when sympathetic additions are built onto an historic property.
Thinking of tying the knot? Pop into Jonesborough's Wedding Loft. Everything can arranged in quick time, including any necessary paperwork. Apparently, Tennessee is a great state for "popping-over-the-border-to-get-hitched" ceremonies.
If you think that some of your ancestors came from northeastern Tennessee, plan to spend a few days checking the vast number of genealogical records and files held in various Jonesborough locations.
Tennessee is all about Davy Crockett, who unlike his popular song, was not partial to wearing coon-skin caps. Neither was he born on a mountain top. Davy was born at the confluence of the Limestone Creek and Nolichucky River, near the tiny crossroads community of Limestone. If you blink while passing through Limestone, you'll miss it! Davy Crockett Birthplace Historical Area salutes this American hero. If your vacation includes camping or RV-ing, the park is a great place to use as home-base.
Greeneville, ten miles down the road from Limestone, should be your next destination. Scots-Irish settled the area c1783, placing their community at the junction of two important Indian trails. The city is now known as "A Presidential Town" due to its long connection with Andrew Johnson, 17th President of the U.S.A. The president's two homes and tailor shop are now part of Andrew Johnson National Park. To enjoy Greeneville, drop into the park's Visitor Center for a 14 minutes presentation on Johnson. Greene County Information Center is a half block away. Pick up copy of their "Walk with the President" booklet and other area information pamphlets.
The walking tour includes such historical gems as the c1805 Dickson-Williams Mansion with its excellent collection of antiques, Old Harmony Graveyard that is the earliest cemetery in the community, Bicentennial Park & Big Spring, three heritage churches and the Andrew Johnson National Cemetery. Be sure to stop at the General Morgan Inn, created from four interconnected railroad hotels, all dating to the late 1800's. The Inn is an elegant and sophisticated reminder that great things can be accomplished by far-sighted people who have an interest in restoring and reusing significant historical structures. As soon as you enter the Inn's soaring lobby, it is apparent that a lot of effort has gone into restoration and guest services. Rooms are well appointed. Beds are super comfortable. "Brumley's" in the Inn serves excellent meals.
There are a number of annual special events in Greeneville, the largest being the Iris Festival that takes place in mid-May. Davy Crockett has his own mid-August weekend event.
Speaking of Davy Crockett, a side trip to Morristown will put you back on his trail. We went for Crockett memorabilia but found that one of Morristown's most unique features is its "skywalks" - for want of a better word. Around thirty years ago, to combat a periodic flooding problem, concrete walkways were built at second floor level throughout the main historic retail area. The end result of this creative and unusual solution, is fast becoming a tourism attraction. Morristown also has a re-creation of the John Crockett tavern where Davy moved with his family around age six. If you're into ghosts, Morristown Cemetery is reputed to have a few. For those that like crafts, Mountain Makins Festival is held during the fourth week in October, at historic Rose Center.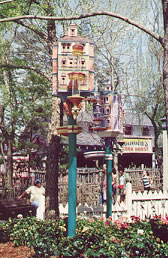 Our travels took us back toward the mountains again on #25E and #32, to link with #321 and drive through gorgeous Appalachian foothill country. This route skirts the western edge of Great Smoky Mountain National Park before you drive into the frenzy that is Gatlinburg and Pigeon Forge. You have to brave the Pigeon Forge overkill for a peek at Dollywood. After all, you can't visit eastern Tennessee without being just a bit curious about Dolly Parton's special theme park. If you don't want to spend several hours in traffic on the Pigeon Forge Strip, ask locals about a back route into the attraction. But, ask long before you get to Gatlinburg.
We decided to tackle Pigeon Forge because hubby wanted to see a humongous classic, antique, custom & rod car show that went on for miles along the strip. Take my word for it - the show was amazing, and we did manage to survive the madness that is Pigeon Forge - barely.
Dollywood is a class act and well worth a visit. You're in for a vibrant, colourful and musical experience. Don't assume that it is just another amusement park. It isn't. Grounds are visually pleasing with flower beds, tree-shaded streets and architecturally-themed buildings in areas such as "Showstreet" - "Rivertown Junction" - Dollywood Boulevard" - "Jukebox Junction" - "The Village" - "Country Fair" - "Dreamland Forest" - Craftsman's Valley. With at least eleven theatrical venues and a rotating schedule of more than forty shows, you never get bored.
A funtabulous water park lures kids, of all ages, with a giant water pad and the largest tree house you'll ever see. The park has its own authentic steam train, grist mill, church and replica of Dolly's birthplace. Try the Spotlight Bakery for sumptuous treats, and any of the many themed restaurants that cater to all budgets and dietary requirements. Parton is repeating her success with Dolly's Splash County, located right next to Dollywood.
For a popular side trip from Pigeon Forge, take Highway #441 east through Great Smoky Mountain National Park. The route takes you past the highest point in Tennessee, Clingman's Dome at 6,643 feet, across the Tennessee/North Carolina State line and over 5,048 foot Newfound Gap Pass. You pop out at Cherokee in North Carolina. If planning to continue your trip through the state of Tennessee, turn around and go back again, stopping at all the scenic look-outs and interesting Visitor's Centers.
IF YOU GO:
Rocky Mount Museum




Historic Jonesborough Tourism Cooperative




Eureka Hotel




The Rees-Hawley House B & B




Storytelling Foundation International




General Morgan Inn & Conference Center

111 N. Main Street
Greeneville, TN, 37743
#1-800-223-2679




Morristown Chamber of Commerce




Dollywood