Beautiful York
York, Pennsylvania

By Pat Mestern
If you are a buff of architecture, history or nostalgia it's not hard to fall in love with the city of York, Pennsylvania. If you love the outdoors, pastoral scenery and small villages, York County is the place to visit. If your preference is factory tours or shopping then you've definitely got to motor to south-central Pennsylvania where the mighty Susquehanna River dominates the landscape as it flows from northern reaches toward to the eastern seaboard. The river is more than a mile wide when it separates Lancaster County to the east from the County of York with its rolling hills and lush valleys to the west. The moody river is spanned by a number of bridges but none as pretty as the concrete muli-arched beauty on #462, that links the cities of York and Columbia.
Lancaster and York Counties have more than the river in common. Legendary Route #30 runs through both. Route #30, a major east-west arterial road with a history that goes back to the early part of the century, played a major role in early tourism. Today it's a multi-lane highway with never-ending traffic, wall-to-wall shopping malls and fast foot outlets. Those in the know, abandon busy the route for the pleasurable experience of traveling less crowded by-ways.
Because there's so much to see and do, your first step, before visiting this exciting area of Pennsylvania, should be to contact York County Visitor and Convention Bureau for a package of information that includes maps, a list of attractions, accommodations, factory tours and outlet stores. You don't want to miss anything important, unique and unusual. Plan to spend a minimum of three days - one set aside for factory tours; another for visiting "things historical" and a third for the exploration of outlying areas.
The city of York, which has all the attributes a small city should possess, is named after the County and bills itself as the factory tour capital of North America. It should also boast that it is an architecturally significant island in a sea of mediocrity and also has some great natural environments just waiting for exploration.
Part of York's charm is that a portion of the original Route #30, is now Route #462 and runs through the city. Along #462 are some excellent examples of c1940's through 1970's commercial architecture. How many of you have stayed at those interesting c1940's and 1950's mom-and-pop-run roadside motels, eaten in diners and enjoyed a frosty freeze from one of the quaint ice cream stands that popped up across America after the Second World War to fill the needs of the travelling public?
Exploring York is a trip down memory lane to a time when there were no corporate fast food outlets or big name sleeperies. It's a fun and nostalgic trip to take, all the while watching for architectural gems that were once part of America's early tourism scene. Watch for the Tartan building, motel-in-the-round and old-style advertising signs.
The area boasts a large amount of unusual programatic architecture - architecture that is geared to specific products. One of the most unique, and best known, is the huge shoe located just off Route #30, and seen from that highway. The attraction even boasts a dog house that is shaped like an oversized boot.
York is a four-seasons destination. We visited in November when weather can be unpredictable, but take my word for it, the city is gorgeous during the rains of autumn. There are lots of indoor activities to keep you busy and interested. Properties held by the York County Heritage Trust include a comprehensive Museum & Archives, Gates House, Golden Plough Tavern, Bobb Log House, Colonial Courthouse, Industrial and Agricultural Museum, Fire Museum and Bonham House. In particular, the Museum & Archives are housed in a fascinating Art Deco structure that was built in 1921 as an automotive dealership. Other heritage attractions include the Police Heritage Museum in York, the Indian Steps Museum with its extensive Indian artifact collection - south of York and the Codorus Furnace & Forge and Wills School, a little north of York.
Historic York is chock-a-block full of architectural gems in a variety of styles dating from c1740's through the 1930's. Romanesque and Colonial Revival shares the streetscape with Chicago Style, Art Deco, Gothic, Italianate, Georgian, original Medieval and Colonial log. The Central Market building is a fine example of c1880's Romanesque style. If you're lucky enough to visit the market, open Tuesdays, Thursdays and Saturdays between the hours of 6:00 a.m. and 3:00 p.m., you're in for a treat - many treats. Plan to have lunch at one of the market stalls. Try the soft pretzel sandwich, cherry pudding and Dutch pie.
One of the most striking features of York's heritage commercial architecture are the number of cast-iron-fronted buildings and magnificent Ruby Glass window treatments and accents. Ruby Glass, renowned for its glass manufacturing, trained a large number of workers who eventually found their way to the Tiffany Glass company. An excellent walking tour booklet is available that details the history and architectural styling of significant buildings in the historic area.
York's murals are well explained in a handy booklet that can be purchased at the Information Centre. Among the murals that depict York's 250 year history, are a number of Lewis Miller inspired paintings, executed by Justine Landis and Mary L. Straup. Murals are located within walking distance of each other in the downtown area. The Landis-Straup murals are, for the most part, in and near Cherry Lane.
While in the downtown area, drop into Sparky & Clark's Roasting Company housed in an Art Deco building on West Market for a muffin and coffee. Try "American Defender". Sparky and Clark's coffee is served in the governor's Mansion in Harrisburg. Knowledgeable staff can answer any questions you have about coffee production, roasting, blending and flavouring. While enjoying your cuppa' take look at the architectural gem across the street that houses the Harmony Café, a classic c1950's luncheonette.
A tour of centrally located Golden Plough Tavern and General Gates House, known as the Plough & Gates Complex, two of the oldest buildings in Pennsylvania, is important to understand area history. In particular the Golden Plough Tavern with its half-timbered construction and unique fireplaces, both in the German tradition, presents a fine example of early European construction styles. One of the most interesting aspects of the Gates house is the unusual floating wall on the second floor which allowed two bedrooms to be turned into a ball room for special occasions. The Bobb Log House is located directly behind the Plough & Gates Complex.
Looking for treasures? Historic York Inc's Architectural Warehouse has an amazing collection of rescued building bits and pieces - windows, doors, surrounds, gates, iron work, anything you might need for a restoration job.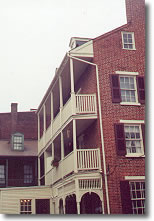 With tourism's handy map and directions, be sure to drive through several of the older residential areas in the city with their excellent c1920's and 1930's architectural styles. Ask for directions to the "Hobbit House" a unique tile-roofed whimsical c1920's home on Elmwood. East Market Street is home to the Lincoln Highway Garage with its display of Route #30 memorabilia and restored cars. Close by this salute to vehicular history, one original Route #30 marker remains - a small concrete pole with special highway insignia. The folks at Lincoln Highway Garage can point it out for you. During your city travels, you'll notice a high concentration of well-kept Victorian row houses. York's impressive collection of these unique dwellings is surpassed only by Baltimore, Maryland.
When York was established mid-eighteenth century mostly by German immigrants, it quickly became an important crossroads community, known for its manufactories. Today, as the tradition continues, it is only natural that area tourism focuses on a local strength - industry. Some visitors come to the area specifically to enjoy factory tours. With more than twenty to choose from, it's hard to limit this activity to one day. Harley Davidson York Operations plant, Martin's Potato Chips, Inc and Naylor Wine Cellars are well worth a visit as are Sparky & Clark's Coffee Roasters and Hope Acres Farm & the Brown Cow Country Market. True factory outlet stores include Stauffer's Cookies, Fitzkee's Candies, Inc and York Wallcoverings. As each manufacturer has specific times for, and rules about, touring their facility, it's a good idea to consult the Visitor's Guide for information on those factories you are most interested in seeing - and to make reservations, when necessary, well ahead of time.
A tour of the Harley Davidson York Operations Plant is a must-do. The tour starts at the Vaughan L. Beals Tour Center, located at the assembly plant which is also a great place to shop for Harley Davidson memorabilia. You can get area information here as there's an official on-site York County Information Center - if you didn't write for that comprehensive package before setting out on your trip.
Martins Potato Chips, owned by the same family for more than sixty years, is known for their kettle-cooked product. A tour of Martins ends with visitors given a taste of kettle- cooked chips, retrieved by the tour guide, warm off the production line. For potato chip afficionado's, Martins operates an on-site outlet store. A bit of trivia - Martin's kettle-cooked potato chips are served on Airforce 1
Do you like to bike, to hike? Bikes aren't available for rent but if you like to pedal, bring your own to enjoy twenty-one mile long Heritage Rail Trail County Park which begins in the historic downtown, and runs through the Howard Tunnel to Hanover Junction, then down to New Freedom with its restored train station and on to the Maryland state line. You can hike, bike and ride horses on this trail. Motorized vehicles are not allowed.
There are a number of pretty byways in York County. One of the most scenic drives roughly follows the Heritage Rail Trail route. Take #616 through Seven Valleys, Hanover Junction, Glen Rock and Railway to New Freedom then come back to York along the Susquehanna Trail.
Several accommodations come highly recommended. Heritage Hills Golf Resort & Conference Centre is a great place to stay as it's situated close to all attractions, boasts Knickers Bar & Grill and a good golf course. The Yorktowne, a restored c1930's hotel in downtown York, is the ideal place to call home for several days, especially if you're a nostalgia buff and enjoy great food, served in the congenial surroundings of the Commonwealth Room or OFFCENTER Grill. The Commonwealth Room's Pacific Salad and Osso Bucco are excellent as is their signature dessert, the Yorktowne Peppermint Pattie, a luscious combination of mousse with chocolate and raspberry coulis.
York County will not disappoint. Its considerable charms will woo you back time and time again to enjoy its festivals and special events, eateries and attractions.
IF YOU GO:
York County Convention & Visitors Bureau

155 W. Market Street
York, PA
#1-888-858-York (858-9075)
www.yorkpa.org




Sparky & Clark's




The Yorktowne Hotel

48 East Market Street
York, PA, 17401
#1-800-233-9324




Harley Davidson York Vehicle Operations & Vaughan L Beals Tour Centre




Martin's Potato Chips Inc.




Naylor Wine Cellars Inc.




The Murals of York




York County Heritage Trust




Heritage Hills Golf Resort & Conference Center

2700 Mount Rose, Avenue
York, PA, 17402
#1-877-STAY-PLAY
www.hhgr.com




The Yorktowne Hotel




Historic York Inc's Architectural Warehouse

224 North George Street,
York, PA
#1-717-854-7152