North & East of Nashville
Middle Tennessee

By Pat Mestern
Timing is important when visiting Wilson and Sumner Counties east and north of Nashville. If you visit at the beginning of May, you can take in the Annual Colonial Fair held in Goodlettsville. Time your visit for April or October and you can browse the mile-long garage sale in Watertown or enjoy an excellent Main Street Festival in Gallatin. Best thing to do, is to write to Wilson and Sumner Counties for comprehensive packages of information, and plan your trip carefully. Watertown is a great place to begin a leisurely visit around the east and north sides of Nashville.
Watertown, named Three Fords in the late 1700's, lies forty miles east of Nashville. It is one of those small communities that really cares you took the time to visit. As the community suffered a devastating fire during the early 1900's, down town was rebuilt in a square that is bordered by good examples of early twentieth architecture. Today, there's good antiquing throughout the main area. Sitting in the square's gazebo and watching the world go by, is a favourite local pastime. Be prepared, everyone says hello. You are never a stranger in Watertown.
If we hadn't been staying at Watertown Bed and Breakfast, we'd never have met Edsel Floyd. And if we hadn't met Edsel, we'd never have learned the history of the community in such a charming way. Watertown held lots of surprises for us. Window decorations at a Laundromat on the Square, were a Beatty Bros., washing machine, laundry tub and tub stand. We were 2,000 miles from Fergus, Ontario, the place where these items were manufactured. Never have we seen such fine examples of Beatty Bros. housewares.
Second surprise was in Charlie's Restaurant, also on the Square. We were wowed by the display of Indian arrowheads, scrappers and spear points that were mounted in a score of shadow boxes on the walls. Wilson County has a great number of centuries old Indian sites and the infamous Cherokee Trail of Tears runs east to west through it.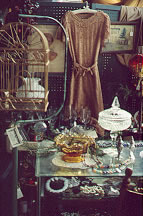 Watertown is famous for its April and October Mile-Long Yard Sales. Each sale attracts more than 30,000 people. As the community was a railroad town, trains were important to its history, and still are. Themed excursion trains are run from Nashville for special events and occasions. You can ride with the Easter Bunny and Santa Claus too, depending on the season.
Watertown Bed and Breakfast is a great place to spend a night or two. The building was once a railroad hotel. Today, it offers five charming bedrooms and Sharon serves a wonderful breakfast that will keep you humming for most of a busy day.
Lebanon, ten miles north and west of Watertown has lots of good things happening around its turn of the century Square. Many of its restored buildings house antique shops. You can't miss the Square because it's dominated by a statue of General Robert Hatton.
Jack Cato is the fellow to speak to about the Sellars Farm Archaeological Park Project, the site of a C1000 - C1300 A.D. Mississippian Mound Village. The site, located at a bend in Spring Creek, developed around a platform mound, and is typically Mississippian with earthen walls, wooden palisade, plaza for games & rituals, and a dry moat. The site was abandoned prior to arrival of European settlers. Fortunately, the Sellar family did not allow digging in the area. Today, seventy acres are being transformed into an Archaeological Park "par excellence" due to its undisturbed nature.
Lebanon leads the way for good reuse of significant architecture. Heritage buildings at Castle Heights,
a former college, are now used as the head office for the Cracker Barrel chain of restaurants, City Hall and a great restaurant.
The first Cracker Barrel Old Country Store, which included gas pumps, was opened on Highway #109 in Lebanon in 1969 by Dan Evins. He was, at the time, working for an Oil company, and felt a service station/restaurant concept would sell more fuel. His down-home menu was a crowd pleaser from day one. Prices were reasonable too. You could buy a Sho-nuff hamburger for .55 cents. Country Ham & Homemade biscuits sold for $1.45. Cracker Barrel stayed in the gasoline business until the fuel crisis of the mid 1970's.
Cracker Barrel's home office and large warehouses for antique memorabilia that decorate their more than 400 locations, is in Lebanon. Tours are offered. What a collection of ceiling high walls of horse collars and harness, glass, tin, toys, signs, kitchenware and other household items. Be prepared for a nostalgic tour but remember, nothing is for sale.
Fiddler's Grove Historic Village, advertised as the most culturally diverse historic village in Middle Tennessee, is located at Lebanon's James E. Ward Agricultural Center, home to Tennessee's best country fair.
A short drive north on Highway #231 and a jog left onto #25 brings you to Sumner County. History and Sumner County go hand in hand. Because of the large number of late 18th and early 19th century heritage sites, the County's historical focus is on the period after the Revolutionary War and prior to the Civil War. There is so much to see and do that you should consider making the Gallatin area home base for a few days. Maple Shade Bed & Breakfast makes a wonderful home-away-from home. Your gracious host will be Mary Glenn Lassiter, a radio personality in Nashville. If someone you know wants to tie the knot in a quiet country garden, this is the place to do it.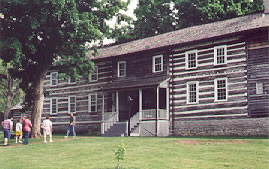 First stop, C1828 Wynnewood, seven miles east of Gallatin at Castalian Springs, site of a mineral spring and sulphur salt lick. Discovered by Longhunter, Issac Bledsoe in 1772, he wrote that there were so many buffalo around the lick and spring, he was afraid he'd be trampled if he got off his horse. Wynnewood is the largest log structure to survive from the 1820's period. The building is 142 feet long with an open dog trot. A 110 foot gallery extends across the back.
The site of Bledsoe's stockaded fort lies one half mile north- west of the spring. Nearby an Indian fortified village with mounds and parapet earthen walls, stood closer to the spring. The principal ceremonial mound is still visible in a field north-east of the intersection of Highway #25 and Rock Springs Road.
T-shaped C1798 Cragfont, is near Castalian Springs on Highway #25. This full two storey stone mansion, with its second floor ball room, was home to General James Winchester. The mansion is said to have a resident ghost - or two.
Sumner County Museum and an extensive Archives are located in Gallatin. The Museum, on the grounds of the Governor Trousdale home, holds an excellent collection of area artifacts, including automobiles and other car memorabilia. The County Archives a short walk way, has excellent genealogical records for those doing family and military research.
Downtown Gallatin's Square features an historic count house, restored c 1880's theater, an old-fashioned drug store, book store, coffee and specialty shops. A number of events, including SquareFest in May and Main Street Festival in October brings thousands to the area.
Hendersonville has several attractions, including c1790 Historic Rock Castle, built in stages by Daniel Smith one of the surveyors of Nashville; and the inspirational Trinity Music City USA. One of the best times to see Trinity Music City is during November and December when more than one million lights sparkle on trees and displays throughout the thirty acre complex. Hendersonville was the home of singer, the late Roy Orbison, and is home for that gentleman of country music, Johnny Cash.
Goodlettsville, fourteen miles north of Nashville, boasts the recreated, fortified Manskers Station located in Moss Wright Park with its excellent Visitor Centre. The Park is also the site of the 18th Century Colonial Fair, an annual early May event that can hold one's undivided attention for several days.
Truth be known, this event is one of the most unique and interesting in-theme festivals in Tennessee. The fair showcases the finest 18th Century artisans, craftsmen, traders, entertainers and musicians in the U.S.A. All participants and traders are juried before attending. Rules dictate that they must be in period costume, and must stay in-theme throughout festival days.
Some 1750's through 1790's features include traders and merchants, a Longhunter's Camp, a Scottish military camp, folk artists, period games, in-theme food and drink, an eastern Woodland's Indian Encampment, Flintlock firearms and accouterments, jugglers, musicians, puppeteers and beggars. Longhunters ride around the site. Goods are sold from dog carts. Rascals and scoundrels roam freely, looking for trouble. Indians ride in to trade. There are more than 110 different stalls that sell well crafted in-theme items. Bring your camera. Picture taking opportunities are everywhere.
While in the park, check out the Bowen-Campbell House with its excellent back-yard bake oven.
Our last stop was at one of only four memorials in the USA that is dedicated to the almost forgotten Mexican/American conflict of the 1840's. The names and particulars of the dead fighters that came from Sumner County, are engraved on the monument.
It was totally appropriate that as we left for points north and west, the car radio was playing Johnny Cash's "I've Been Everywhere".
IF YOU GO:
Watertown Bed & Breakfast




Watertown Tourism

Watertown/East Wilson County Chamber of Commerce
Watertown City Hall
Watertown, TN 37184
#1-615-237-3326
www.watertowntn.com




Wilson County Tennessee Convention & Visitor's Bureau




Cracker Barrel Home Office

P.O. Box 787
Hartmann Drive
Lebanon, TN, 37088
#1-615-444-5533




Fiddler's Grove Historic Village

James E. Ward Agricultural Center
945 Baddour Pkwy
Lebanon, TN, 37037
#1-615-443-2626




Sellars Farm Archaeological Park




Lebanon/Wilson County Chamber of Commerce




Historic Rock Castle




Cragfont

200 Cragfont Road
Castalian Spring, TN, 37031




Maple Shade

The Bed & Breakfast and Wedding Garden 1755 Highway 31E
Gallatin, TN 37066
#1-615-452-8282




Sumner County Museum




Sumner County Archives

155 East Main Street
Gallatin, TN 37066
#1-615-452-0037




Sumner County Tourism




Historic Manskers Station

105 S. Main Street
Goodlettsville, TN 37072
#1-615-859-3678